Shop 2B Organic Products
Our unique collection of organic beauty products are the result of years of gathering and testing ingredients.
I absolutely love 2b Organic's carageenan night mask. My skin tends to be dull and dry and this mask has made it so much more softer and brighter! It smells amazing, texture is lovely, and it's full of herbal medicine goodness to boost collagen and even skin tone. I love that it has the likes of tamanu oil and frankincense, which is great for scarring and anti-aging. And, it also has carageenan moss from our Irish shores. I also use the Head-to-Toe Baby Balm as a moisturiser after! I've gotten so many compliments on my skin since using this product. I'm so pleased with it that I recommend it to my customers all the time. It's unlike anything on the market! ~ Katie, Dublin🌺❤
Katie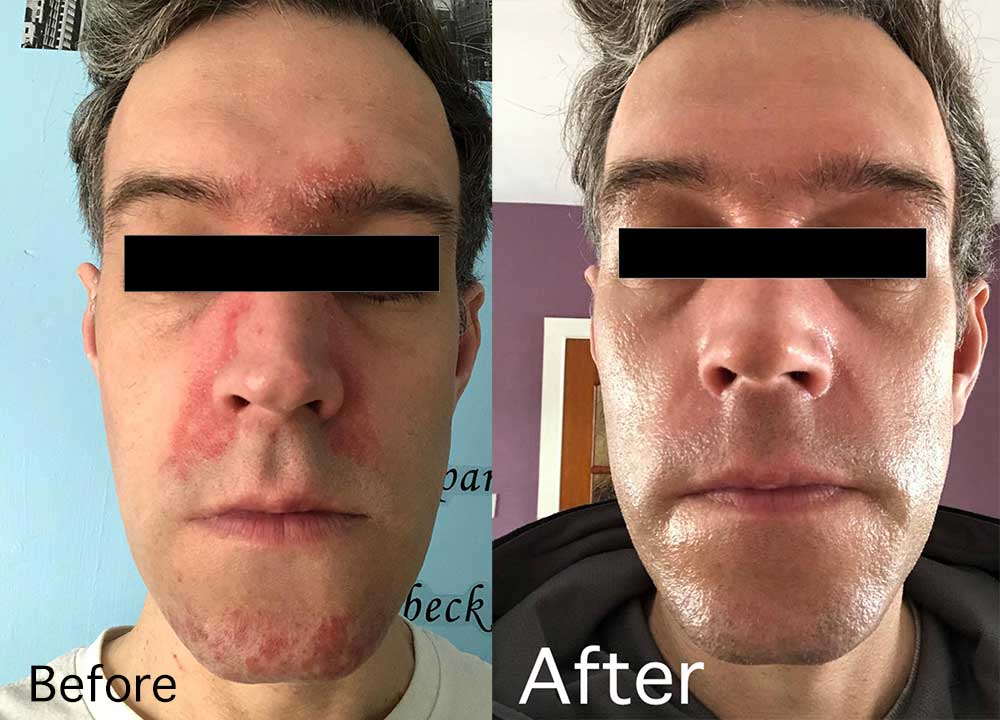 Hi Simone! I just wanted to reach out to you to inform you of my progress, and also thank you for the bespoke skincare product that you created for me. I have spent the last 3 years dealing with a condition whereby I would experience sporadic breakouts of red patches and scale-like blotches on my face. This seemed to be localised to the T-Zone area of my face (the nose, eyes and brow area). Having visited Skincare clinics previously, I had been prescribed steroid creams. These creams when used seemed to work only for a short period of time, and ultimately would aggravate the condition in the long term. The relief provided by your cream has been a blessing. The reduction in the red patches, and scale-like blotches has been dramatic, to say the least. I am even more particularly impressed by the fact that the cream itself is completely organic and made of natural ingredients. I am continuing with the use of your cream and incorporating it into my daily routine, to fantastic results. I have found your product extremely effective in keeping my skin looking as vibrant and healthy as possible. Thank you!
Kevin Homan
Gday Simone, I am writing to you to thank you for your youth elixir moisturiser. I came across a sample of your product in a gym l was training in and have been purchasing it online from you for the last few months, to which l have to say arrives on the given date stated when you make the purchase. I have very sensitive skin which is made worse after shaving, my face breaks out into a very sore red rash, for years l have tried all the male products on the market,,( to which l must add are at a terrible cost), and no relief in the soreness or reducing the red rash. I thought I would try your product as its states all natural ingredients, thinking it to be just another tin for the bathroom shelf, but from the minute l opened it and smelt the freshness, and the feeling of it between my fingers, l knew it was the real deal, it applies very easy to your skin and you don't need a lot of it either, it makes your skin feel clean and dry immediately but very moisturised which l have never had before ,with the male products its normally sticky or oily and feels like my skin can't breath, l am addicted to it now and have to say its the first product l have used that has brought relief to my face, and has nearly totally reduced the red soreness rash, it has also helped the skin around and under my eyes. As a successful business owner myself, l can see you have put a lot of time thought and research into this product. l was recently in America at a friends wellness centre called Bennessre in New Jersey which promotes wellness and natural/holistic products. l brought a sample for them to try, and guess what, like myself they where highly impressed so much so they asked me for your details, so as to contact you to enquire to buy from your self and be the sole distributor in the states. l am not sure if they contacted you as yet, but l know they will. So l would like to thank you for your wonderful product and l know as a business person its important and also nice to receive feed back to help further your products. l will now also be trying a lot of your other products as l have seen on your website you have are expanding your range, so from a very GRATEFUL and satisfied customer thank you and keep up the good work
Darren Fitzpatrick
Customer
I have suffered from a skin condition known as Actinic or Solar Keratosis for more than fifteen years. Actinic keratosis is a rough, scaly patch on your skin that develops from years of exposure to the sun. It is most commonly found on your face and can be dangerous if left untreated, possibly leading to skin cancer. After treatment with liquid nitrogen application, cryotherapy, the treated area comes very sore and inflamed for up to a couple of weeks. Following the above procedure, I applied 2B Organic moisture on the affected area twice daily. It was very effective in the overall healing process after the sever burning effects of the cryotherapy treatment, i.e. the application to the affected area with the liquid nitrogen treatment process. I have converted to this product daily. Over the years, the incidence of actinic keratosis has decreased. The number and growth of these scaly growths on my skin have decreased. Both my G.P. and dermatologist are very pleased with the overall improvement in my condition. I have also applied this product to the non-affected areas of my face and head daily. I have found it to be very effective in keeping my skin healthy, supple and soft.
Michael
Client
Thank you Simone for creating beauty products that delivers tender love care to my skin. I'm sure I am not alone in my search for a skin product than would rejuvenate my skin using organic ingredients. Having tried, your cleanser initially I got hooked, the texture, smell and feeing left me thinking I had momently stepped into a pampering salon. And now I am hooked and using some of your wonderful products as part of my daily and week skin routine,. The exfoliator, moisturiser and nighty nighty oil, each unique in texture and scent brings a little more of that pampering feeling to my day, morning and night! Not surprisingly they have all earned a well deserved permanent spot in my bathroom cupboard. Loving your work 💓
Ciara Holland
Customer
I've tried several different beard oils and I have to say that the 2B Organic Beard Oil is by far my favourite and a product I go back to time and time again. The spearmint in it leaves my beard feeling really clean and fresh, my wife loves the smell and has commented on how soft my beard is since using your oil! Fantastic product, thanks so much!
Ross
Customer
My son is 4 and has suffered with eczema since he was a baby I have tried what feels like every brand of creams and steroids there was and nothing would sooth the aggressive ezema on his body like the 2B organic products have and I've only been using them in the last few weeks, I was amazed at the results in such a short space of time. Since I was introduced to these products by Simone his skin has never looked and felt so healthy! I can honestly say I will never be using any other brand on our skin again. Simone is such a professional and would highly recommend trying her 2B organic products you will not be disappointed! Cant wait to visit the brand new salon in Swords to stock up.
Leah O'Neill
Client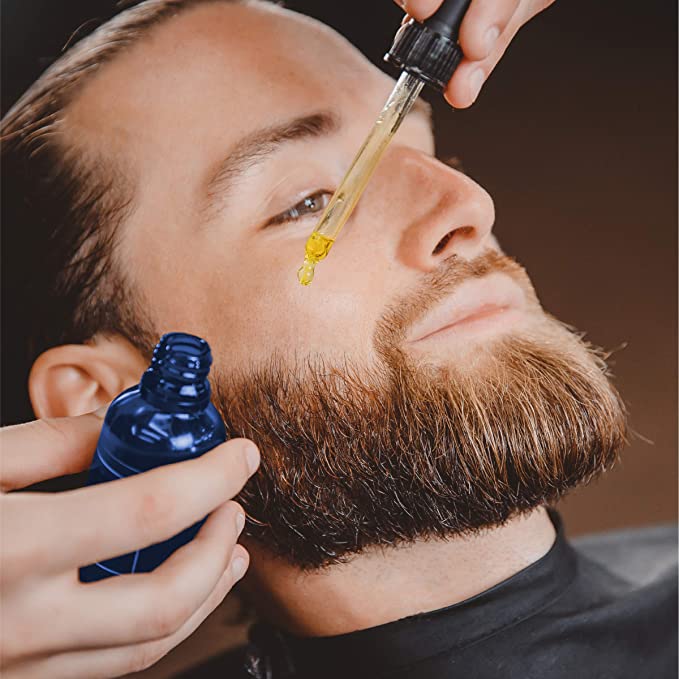 I just want to compliment Simone and the team at 2B Organic. I recently began using their beard oil. I have Folliculitis and this has resulted in significant skin discomfort and an unsightly redness on my skin which you can see under my beard. I was always self conscious and have used several non organic beard oils in the past. These have resulted in my skin condition being exacerbated. Less than a week after using the 2B Organic beard oil, there has been a dramatic improvement in how my skin feels and looks. The redness has all but disappeared and the discomfort with the associated inflammation has gone. The smell of the product is also great, very refreshing. My beard is much softer and shinier as well. I am so glad I found this product and will continue using it. Thanks for Simone for the advice around using this. Her experience as a beauty therapist as well as a herbalist was very beneficial to me.
Patrick Judd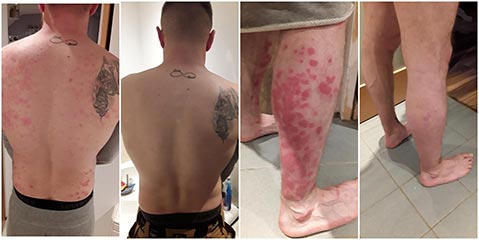 I spent 20 years trying creams, treatments, healers, sunbeds and steroids in an effort to manage my psoriasis. Nothing ever worked until I discovered Simone's 2b Organic Herbal Therapy Clinic. Simone gave me advise I had never heard before and I finally found relief through herbal tinctures and topical application of 2b Organic Baby Cream. I cannot speak highly enough of Simone Nelson. If you are suffering from any kind of skin ailments I urge you to visit 2b Organic Herbal Therapy Clinic. *please note that the results in these photos are not form the herbal treatment alone but also from the clients EpiPen.
Dean Kelly
Client